Here at Essential Workwear we create branded uniforms for a range of businesses, each with their own specific requirements with regards to how they want their garments to look and feel.
We take extra care to make sure we're using the right branding method for the job, be it through one of our printing techniques or our embroidery machines.
Our latest blog post gives you an insight into how we make that decision.
Comparing printed and embroidered workwear
There are a variety of methods available to decorate a garment but the two most popular ones, at least as far as we can see, are embroidery and printing.
While on the face of it they may seem quite similar (it's still 'putting a logo onto a garment' after all), they are popular for distinctly different reasons.
Read on for a series of  comparisons between printed and embroidered workwear.
The longevity of the design
"If I'm going to invest money into branded workwear or PPE for my company, how long are my products going to last?"
It's a fundamental question that requires as accurate an answer as any workwear supplier can give.
We need to stress from the outset that how you take care of the garments themselves will be the major factor behind making your uniforms last either three years or three months. Workwear will always be supplied with laundry specifications to maintain the quality of your stitching or print; so sticking to these will certainly stand you in good stead regardless of what branding method you opt for.
That said, screen printed and embroidered graphics should last the life of the garment when:
The design is produced professionally
The garment is looked after
The garment is used correctly
Sure, stitches can fray and prints can wear off, but that would be as a result of any of the above three points. If we do our bit and you do yours, there'll be no issue of longevity for either method.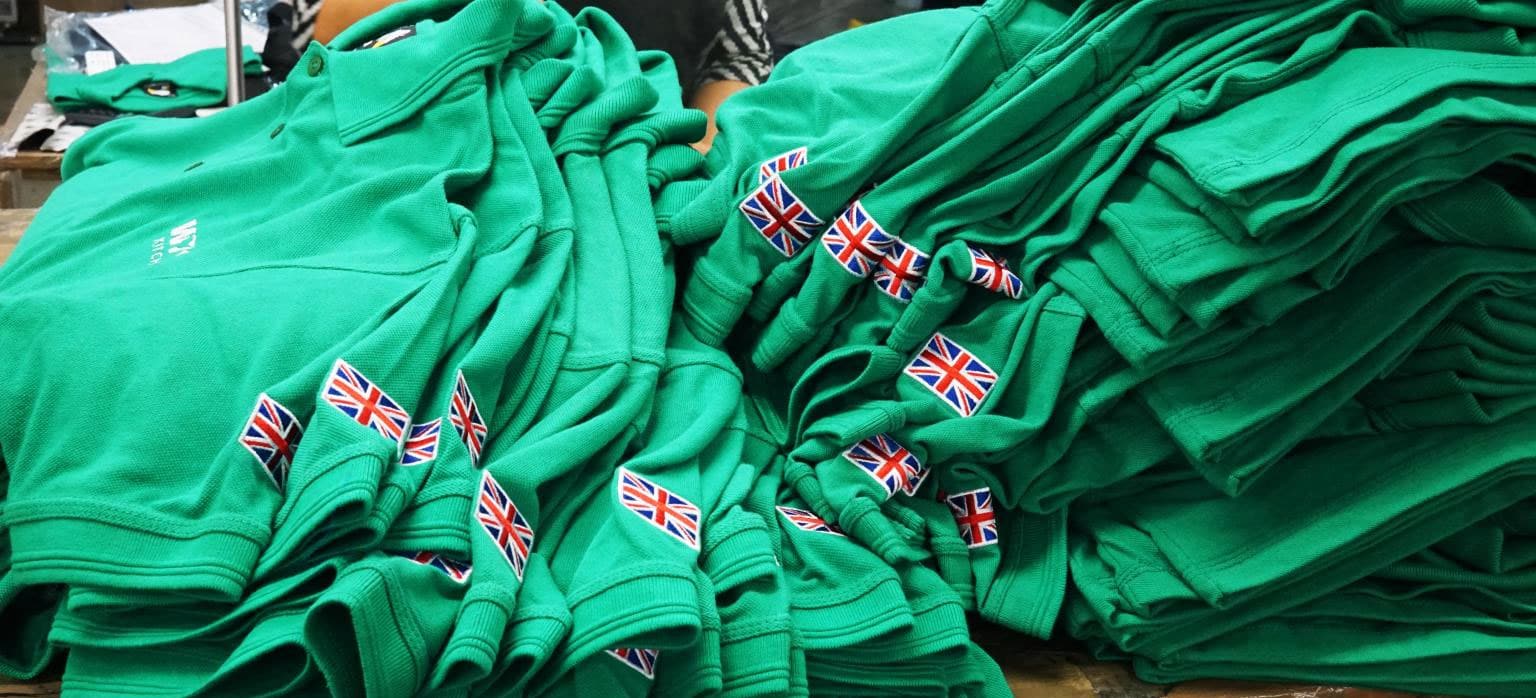 How versatile are the methods?
You're going to have to consider your logo, or the graphic you want to add to the garment. This is something we've discussed at great length in previous articles, such as "Choosing the Right Company Uniform."
It's important to remember that all logos are different, each with their own colour schemes, complexities and so on. Because of that, they lend themselves very differently to the branding services that are available.
Here's a breakdown of what you can achieve through each method:
With embroidery you can create a logo with up to fourteen colours within the design. There are also over 1,000 different threads to choose from, each with a different colour or finish to help realise your vision.
For small to medium sized designs that are complex, you won't go wrong.
The beauty of screen printing lies in the vibrancy of the finished print. Colours stand out beautifully and they do not fade over time, guaranteed.
We can screen print small to large logos, or larger graphic designs across a whole garment.
Say your design is complex and detailed, we'll probably look to get you on a run of digitally printed garments.
Using the latest digital methods we'll be able to map things out first, and this also gives our in house design team the opportunity to work with you to achieve exactly what you've come to us for.
If you're looking to add a design to a print area that's a bit trickier, then we may implement transfer printing for you. This is also worthwhile if you're looking to run individually named garments for staff, as each transfer can be different in design.
Different methods for different projects, for us it's about understanding your requirements and making suggestions to you based on our 20 plus years of experience in the workwear industry.
Customising different garments
One of the main reasons it's important for us to offer various different printing methods, is because certain techniques work better on specific garments.
While there are many products in which you can choose to have an embroidered or printed logo, for example t-shirts, certain fabrics such as those used to produce protective workwear and hi vis clothing aren't able to be embroidered and would therefore require a method of printing to transfer a logo.
Should you be stuck between choosing embroidery or printing for your chosen garment, our experienced team here at Essential Workwear are always on hand to advise, depending on your criteria.
See below for the customisation method which is more suitable for different types of clothing:
What garments can be embroidered?
What garments can be printed?
We want your logo to be presented as flawlessly as possible, and that's why we will always work with you to take a thorough look at your submitted design before going ahead with any production.
This is mainly due to the reason that the customisation method which is chosen is often dependent on the design at hand. For example, the nature of digital printing allows for much larger print areas featuring complex designs compared to the likes of embroidery.
While our embroidery machines are capable of stitching up to 14 colours in one logo for complex designs, if you're looking for a full-size print covering the entire back of a t-shirt for example, it would make much more sense to stick to printing and opt for embroidery when it comes to logo application on a small to medium sized scale.
Trying to find the cheapest printing method is subjective to each order, as this can change depending on the order quantity and design to be printed which will in turn impact which customisation method is required.
Read on for the order specifications for each technique:
Embroidery
The price of our products includes the embroidery of one standard logo. Additional charges will be incurred for larger logo application and for orders of 7 garments or less, there will be a small embroidery run fee of £25. An initial logo set up charge of £15 will occur for new customers, or this will be free on orders over £150.
Digital printing
Great for low order quantities. If you're looking to place a larger printing order, it may be more cost effective to opt for screen printing as due to high time per print for digital printing, an increase in order size can bump up the cost.
Screen printing
More suitable for larger order quantities, due to the set up costs. While we try to keep costs to a minimum, individual screens need to be made for each colour in the design, and each of these screens incurs a higher set up cost.
However, each screen can be used multiple times and for that reason, screen printing is more cost effective when there are more garments to print on. Our minimum order quantity for screen printing is 25 garments for a simple 1 or 2 colour design.
Transfer printing
Ideal for small and medium sized orders, and ideal for printing on difficult access areas of a garment.
How to choose between embroidery and printing
While all of our customisation techniques offer professional, high quality results, there are a few things you might want to consider before ordering your branded workwear.
What is the garment's final purpose?
What type of garment are you customising?
How complex is the design?
How much are you looking to order?
The answers to all of these questions are contributing factors to which logo application technique is suitable for your workwear and particular industry. Take into consideration whether you're prioritising a specific design or garment which might not be open to many options, and this will help you decide which to choose.
If you're flexible, or not really sure what you're looking for, then we have a dedicated team on hand to offer their expertise and recommend the suitable clothing for you. Get in touch with us to see how we can help.