Why your company needs embroidered polo shirts
One of the many workwear assets available to businesses today is the embroidered polo shirt, which is growing in popularity thanks to its mix of versatility and a smarter outward image.
Today we are going to be taking you through how to make your order, and take the first steps in modernising the way your business will be seen through the eyes of your clients and customers.
Benefits of polo shirts
Nothing beats a comfortable polo shirt. It epitomises the term "smart casual" and can be worn in just about any working environment
There are ways to put these versatile garments to even further use, one of which is adpoting custom embroidered polo shirts into your workwear uniforms.
Polo shirts help to create a calm and mature atmosphere within the working environment by remaining smarter than a T-shirt but more comfortable than a button-down.
Comfort and appearance aren't the only benefits of a Polo shirt however, especially where customisation is concerned.
As Polos are a more versatile item of clothing they are suitable for a wider range of working environments, being just as at home in the office as on a building site.
This means that for businesses planning to outfit their entire workforce with a branded uniform an embroidered Polo could be the only solution they need.
Choosing the right polo shirt for you
Please browse our site to see our selection and scroll through some of our options below, if you need help contact our team who will be happy to assist!
Benefits of embroidery
Should you still be torn as to whether polo shirts with logos embroidered are the right fit for your company, here are some advantages of embroidering your logo as opposed to alternative printing methods.
Hard Wearing
Embroidered logos that are physically stitched into a polo shirt won't fade over time, whereas a printed design could do. This ensures that your custom polo shirts last longer, and can stand the test of daily wear and tear.
Professional Image
You really can't beat the finished look of an embroidered logo. The texturised, 3D effect on your embroidered workwear screams high quality, professionalism and high company standards. 
Versatility
There's no limitation when it comes to where your logo can be embroidered. We have a variety of different frames that allow us to stitch designs to a polo shirt in a number of different positions and in various sizes.
Ordering embroidered polo shirts for your business
If you decide that embroidered polo shirts are the right fit for your business then it's time to place your order.
At Essential Workwear we believe in making this process simple and pain-free, catering to all orders both great and small.
Simply browse our site, find the polo shirts for you and add them to your basket.
During the checkout process you will then be able to supply your logos and specify where you would like them to be embroidered on the shirts themselves.
Once payment and artwork have been received, our artwork team will be in touch with a proof for your approval before production goes ahead.
Sit back and let us handle the rest!
Should you still feel like you need help with making your order, our friendly team are always here to assist! You can contact them here.
Logo customisation pricing: Embroidery
Please take a moment to view the pricing structure for ordering custom embroidery on your polo shirts, and decide which is the best value for you!
Logo customisation pricing
No. Garments | Price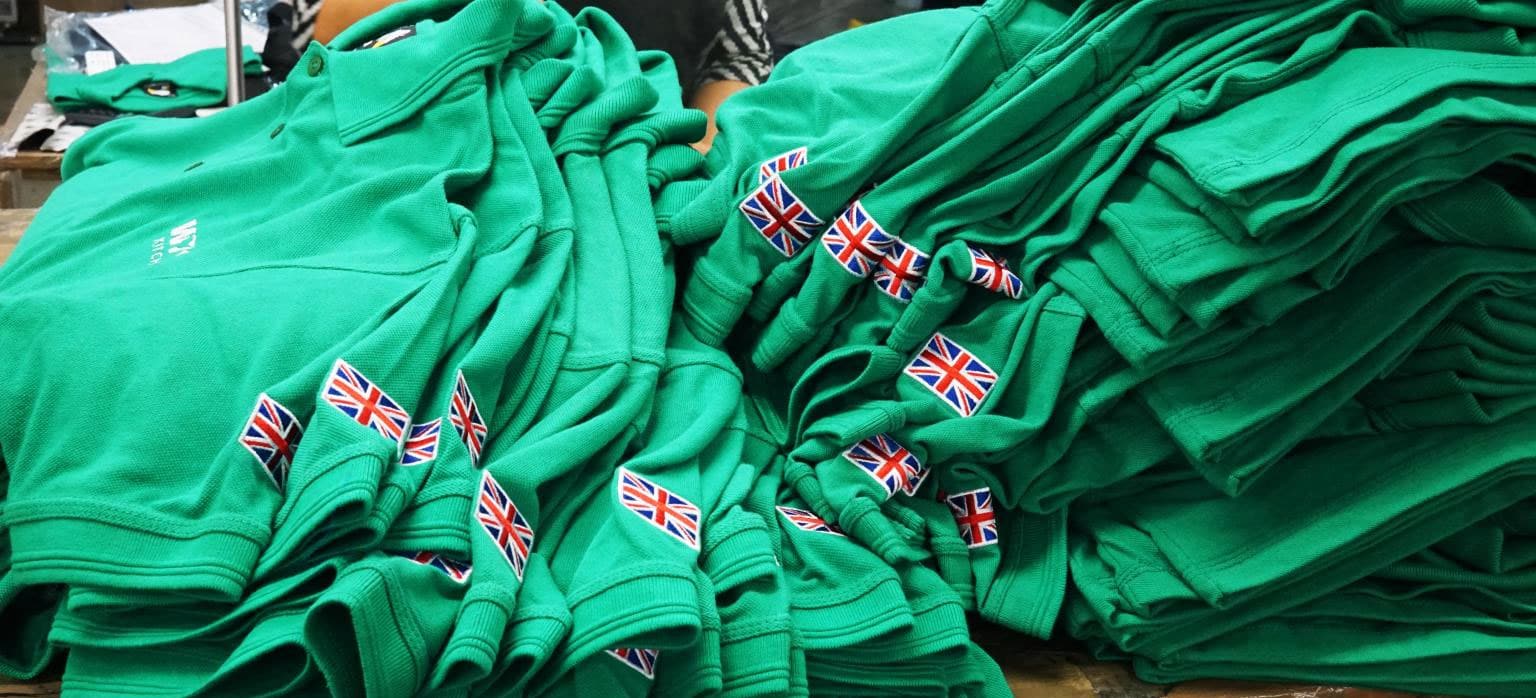 How your order is processed
With your order placed, it's over to us to bring your custom polo shirts to life. We will first prepare your logo for embroidering on your polo shirts, and will determine how best to apply it. This is where the creativity of our design team really comes to light, and we will work with you to  give you the strongest product possible.
Our embroidery process is quick and precise, thanks to our line of Barudan machines, capable of up to 1,100 stitches per minute. Using the latest machinery allows our factory lines to maintain a consistent and high standard. We don't put all of our eggs in the machine's basket however, and our post-production teams will ensure that your embroidered polos are free from loose stitches, faults and snags.
Preparing your logo for embroidery
When it comes to getting your company polo shirts embroidered, you'll want to make sure that your logo is showcased in the best possible light, in a way that complements your brand and is also clearly legible on the shirt.
Embroidery is unique in the way that each thread is individually stitched into the garment and come together to form the finished design, unlike printing where it's essentially copied directly on to the garment. With this, embroidery may have some limitations for you, depending on your logo design.
Shipping and Delivery
To keep our lines simple, we do all of our own packaging right here in house, giving us control over each order and making sure the right products go to the right people! Our entire process is focused around keeping you up to date, included and informed. As part of this we make it a priority to inform you when your order migrates to a new stage of the process.
The cost of our shipping is simple, we charge £7.50+VAT for all orders up to the value of £150, after which shipping is free. The simplicity we have engineered into our production lines mean that we can offer a standard lead time of just 7 days from the arrival of your logos or artwork.
Looking for further help or advice? Our dedicated team of experts can help you decide which workwear essentials your employees will need. Get in touch with us and a member of our team will get back to you.
Essential Workwear are a family owned and operated business, employing close to 70 people at our factory and office in Dunstable, Bedfordshire.
Formed in 1998 by husband and wife duo George & Nicki Georgiou, our business has grown from offering one core embroidery service to supplying the very best workwear brands & PPE utilising a variety of branding techniques.