The 4 Essential Workwear Items You Need This Spring/Summer
Are you looking for your staff to stay cool when working in the office or even outdoors this Spring/Summer?
We know that finding suitable Spring/ Summer workwear for the warmer months that still look professional and are comfortable to wear can sometimes be hard, but this is where we are here to help.
Here are 4 essential items that we recommend for your team this Spring/Summer:
WORKWEAR POLO SHIRTS
Keep your staff looking professional but cool in the warmer months with our branded polo shirts. We offer a range of high-quality men's and women's workwear polo shirts that can be branded with your company logo through our embroidery and printing services.
Polo shirts are comfortable pieces of clothing and manufactured with breathable fabric which provides ventilation to the wearer. They are also a very flexible garment so is perfect for manual working as well as a professional look in the office.
Shop all of our Polo Shirts from brands such as Regatta, Stanley/Stella, Essential workwear and more.
Shop all polo shirts
WORKWEAR SHIRTS & BLOUSES
Branded shirts and blouses are a great option when looking for uniforms as they give your team a professional look. With the choice of short sleeve and long sleeve giving you versatility when it comes to the weather.
All of our workwear shirts and blouses can be customised to your exact branding specifications, and with an extensive range of colours and sizes, there's an enormous variation for you to choose from!
Here at Essential Workwear, we specialise in branded your garments to the highest standard with the highest quality materials. We ensure you, you will love your products.
shop all shirts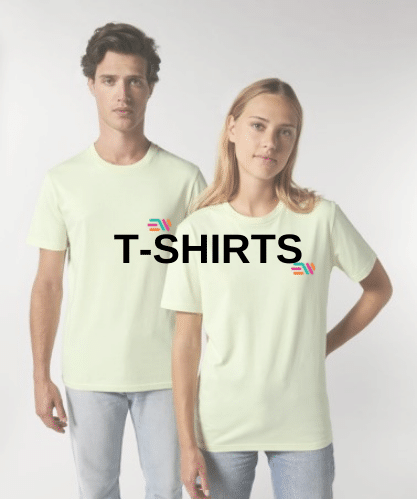 WORKWEAR T-SHIRTS
Do you have a more laid back feel to the office or working outside? Our range of workwear t-shirts could be a great option this spring/summer. Logo printed t-shirts are a comfortable garment for your staff to wear but also keeping you looking professional.
A range of colours and sizes are available as well as sustainable t-shirts made from 100% organic cotton. These can all be branded with your company logo using either printing or embroidery methods.
shop all t-shirts
WORKWEAR SHORTS
Shorts are a great replacement for work trousers in the summer months to stay cool but still remain functional and practical for most working environments.
All of our hard-wearing and durable workwear shorts can be customised with your logo if you require.
Shop all of our workwear shorts below from brands such as Portwest, Regatta and Castle!
shop all shorts
Looking for further advice or help? Our dedicated team of experts can help you decide what Spring/Summer Essential Workwear Items your employees need.

Get in touch with us and a member of the team will get back to you.