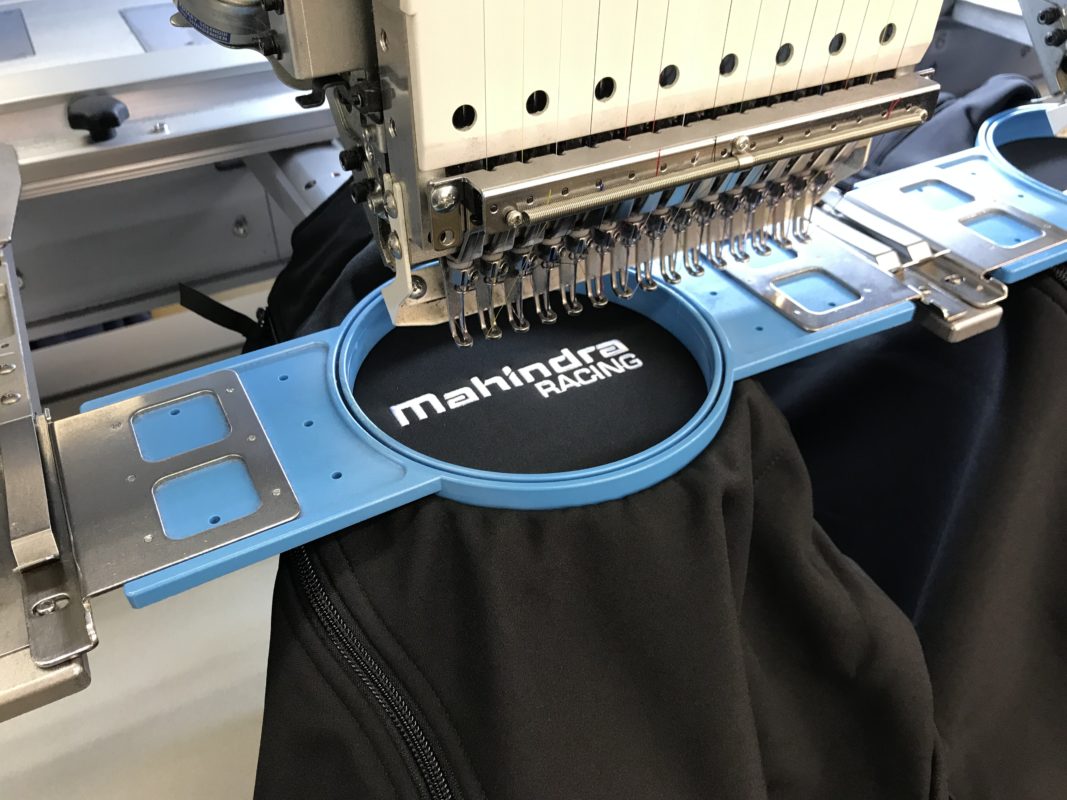 Embroidered workwear
Looking to kit out your employees with branded uniforms or workwear? Embroidery is a great way to add your company logo to shirts, t-shirts, fleeces and more.
This branding method can be used on a variety of different garments, and embroidered workwear can offer some great benefits to your company and brand image.
Why choose embroidered workwear?
It can be difficult to choose whether to have your logo printed or embroidered onto uniforms, so we've put together some of the main advantages of embroidered logos.
Portraying a good company image is key when it comes to how your employees present themselves to the public. Logos look great when embroidered on clothing, which is why embroidery remains one of the most popular methods of branding for many businesses.
The finished result of embroidery instantly stands out as high quality, well designed branding on any item of clothing. One of the first things potential customers notice when approaching members of staff is their uniform, and if they are greeted with a professionally embroidered logo on a high quality shirt, they are likely to leave with a great first impression of your business.
Staff uniforms are worn every day, so it's likely that they will be subject to some wear and tear and an endless amount of cycles in the washing machine. That's why it's important to invest in good quality branding that will remain intact.
As embroidered logos are physically stitched into a garment, this means that they won't fade or stretch over time as is likely with a printed alternative. For this reason, good quality embroidery is a cost-effective investment in the long run as its long-lasting durability means that it can still look brand new years down the line, without the need to re-purchase.
Wide choice of colours and threads
Did you know that our embroidery machines can embroider up to fourteen colours within any one logo set? Unless your logo is incredibly intricate you will be able to use this process to represent your brand on the workwear of your choice.
As explained further in the embroidery process section of this article, one of the early steps will see us work with your logo to determine how many coloured threads are required.
There are also a huge range of thread styles to choose from, with each option possessing a slightly different 'finish' to it. As well as classic thread there are metallic, matte and fire resistant versions for example.
Our design team will work with you and make recommendations on this, based on the information that you have given us.
The right embroidered workwear can cement your identity as a company, especially when it is professionally branded with your company logo. It's always worthwhile investing in representing your brand as strongly as possible.
Having your logo proudly displayed on uniforms, embroidered no less, ensures that your brand is physically represented whenever an employee is carrying out their tasks.
Workwear can fly the flag for your business outside of working hours, too, when you consider that these clothing items may be worn on the way to and from the job. It can actively improve your recognition.
Works on a variety of products
Embroidery is a flexible branding service and can be applied to a number of products, ranges and material types from denim to fleece and almost everything in between.
For consistency purposes we often suggest using the same branding method across all of your chosen workwear items. This adds to the professionalism of the overall company uniform that you are looking to build.
There are different embroidery types for different materials and products, our workwear experts will advise on this when you're conceptualising your uniform.
Read on for some examples of the most common embroidered workwear options.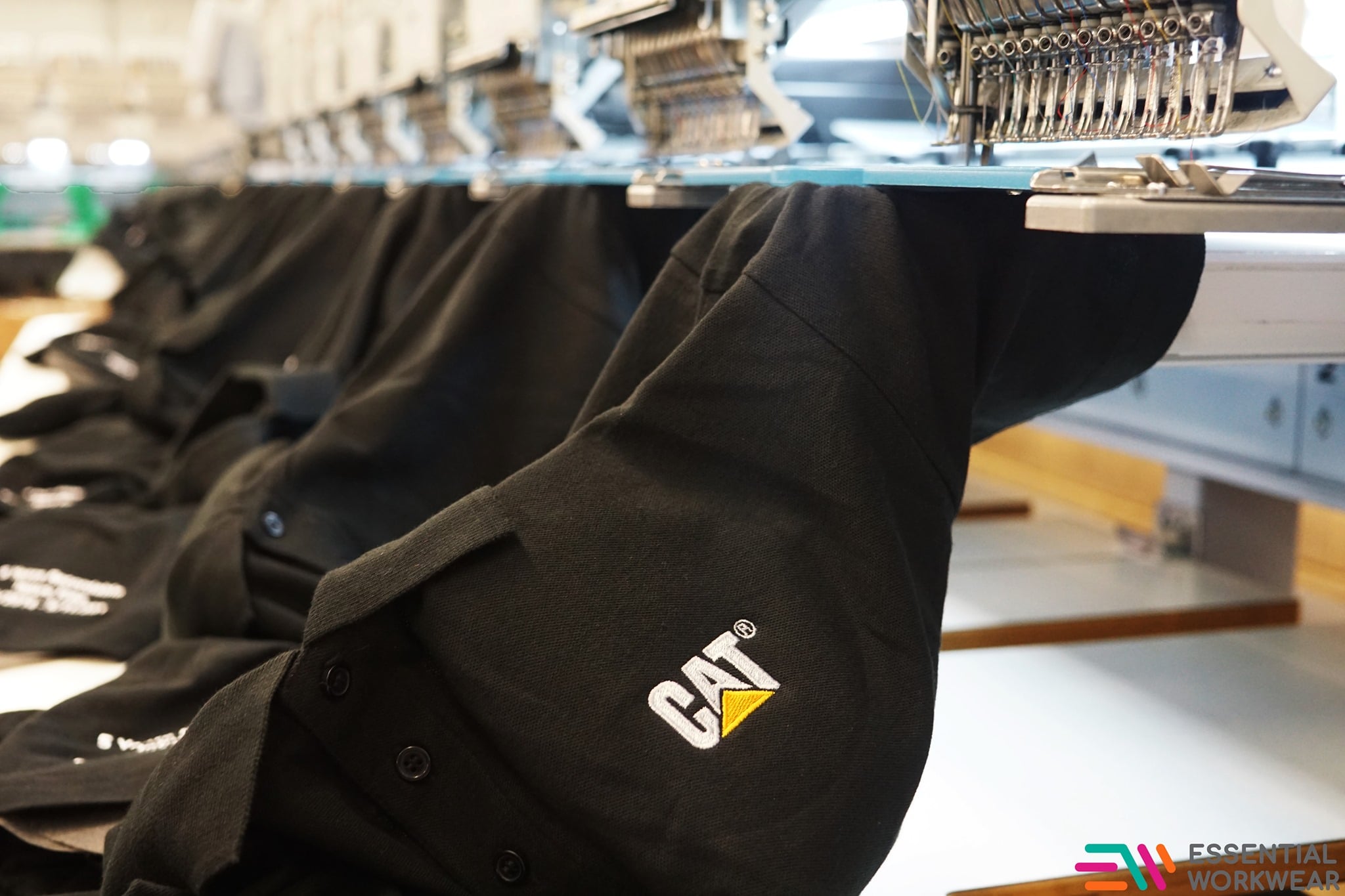 Common embroidered workwear products
From shirts to softshells and everything in between, embroidery can ensure your brand is represented professionally on the workwear of your choice. Some of the most popular uniform types include:
The embroidery process at Essential Workwear
If you're interested in working with us on your next set of uniform, here's an idea of the general process.
It's super easy to reach out to us. You can make an order right here on our website, or request a quote using our online form. If you feel like your requirements are better discussed over the phone, then our team are on hand to take your call.
For us to be able to embroider your logo onto your workwear we will need some key information, such as logo size and location, colours, sizes and so on.
Our in-house design team get creative at this stage. We want to make sure your brand is represented as clearly and as strongly as possible, so we take the opportunity to work with you and your logo.
We'll take a look at the complexity of the design, the amount of coloured threads we will need to use, and make recommendations based on our findings.
How does embroidery work?
We use the very latest Barudan embroidery machines. With these in place, we are able to produce embroidered workwear at speeds of up to 1,100 stitches per minute.
Barudan's in-built technology means we can map a crisp image of your logo and produce a top quality end product. With a vilene set behind the garment to protect the material during stitching, we line everything up with care and attention before letting the machine operate.
Quality control measures are also in place post-embroidery to ensure there are no frayed threads.
We handle all of the packaging and shopping ourselves, and with such a large warehouse space, we are generally able to work to short time-frames no matter the order size.
We can deliver to any UK address for the price of £7.50 plus VAT, or for FREE if your order value exceeds £150.
We operate within a standard lead time of 7 working days from receipt of logo artwork.
Want to learn more about our order fulfillment? There's a full page dedicated to our order process; it has everything you need to know.
The benefits of branded workwear
While branded workwear isn't necessarily suitable for every organisation, businesses who do invest in customised uniforms recognise the benefits that this provides across a number of areas.
Custom t-shirts or shirts branded with your corporate logo can be seen as a form of advertisement for your business.
When your employees are proudly wearing your logo embroidered or printed uniforms, both in and out of the workplace, they are acting as a walking advertisement for your company. Serving as a visual reminder of your brand to the public, you can benefit from the ongoing exposure that branded uniforms provide.
When serving the public, it's important to ensure that your employees are easily identified. A consistent uniform across the team with clear branding ensures that they are immediately visible to any potential customers.
Increasing the visibility of your staff members instantly builds trust with customers, who will feel more comfortable approaching them should they require any help or guidance before making a purchase.
Staff uniforms work in a similar way to school uniforms, which were introduced to give schools a sense of identity and cohesion, as a way of encouraging pupils to feel part of a team.
This is no different in the workplace, and employees wearing the same branded uniform as their colleagues generally find it easier to bond with their teammates and build strong relationships, giving them a sense of belonging.
When wearing a branded uniform, employees recognise that they are representing their place of work, and are more likely to be conscious of conducting themselves in a professional manner.
The added responsibility of wearing the company logo typically encourages staff to work harder, more efficiently and productively.
It goes without saying that ensuring your employees are clearly identifiable makes it much easier to keep them safe in the event of an emergency.
If your staff members are all wearing consistent uniforms with a clear, branded logo it will make the emergency procedure much faster and efficient, particularly in industrial settings.